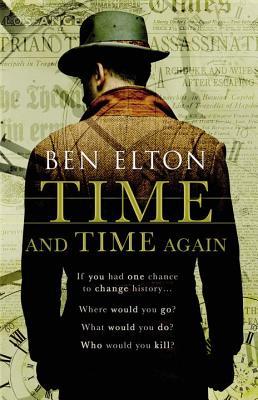 Ben Elton's book 'Time and Time Again' details travel backwards in time, to correct an event that had world-wide catastrophic events. At book club, someone asked the rest of us: 'If you could go back in time, what would you change about your life?' A personal twist on the novel's societal concern.
My immediate reaction was 'Nothing'. I made the decisions I did, the choices I enacted, based upon who I was at the time, with the information then available. How could I change that? Indeed, to change those decisions would mean to change me, to change my family of seven sons.
Does this mean that all my choices and decisions have been good?
Far from it.
They are, however, mine. They make me whom I am today, both the good and bad. They form the substance of my relationships – with family, with God, with others – and the essence of my theological, philosophical, and personal understanding.
I have written before of domestic abuse. Surely, I am not 'owning' that?
Well, I am. I am not a victim or even a survivor. I am not an over-comer. I am a woman who has experienced abuse and, in decrying the abuse of myself and my sons and the abuse of other women, I am strong. I am not broken and no, my sons do not come from a broken home. We are well, thank you very much. Our home has peace. We grow in virtue and compassion. We have a radar or sixth sense for abuse and control in and of others. We can see through the bullshit (excuse the language, but we can).
I made a choice to marry young, to continue to be a rescuer, because that is who I was at age nineteen. I didn't deserve the abuse. But, be sure, my seven sons from that abusive relationship are beings I would never wish away.
I have made many mistakes in my life. But having seven children and homeschooling are not any of the mistakes. To erase or to manipulate my history in one swift time machine trip would be to erase the good with the bad.
I am who I am. I fight for others. I own my choices and stand firm against abuse. I am not a victim. I am whole.
In a life well lived. In a life that I plan to continue to live well.
In fact, there may just be truth in the old adage 'What doesn't kill you makes you stronger'.